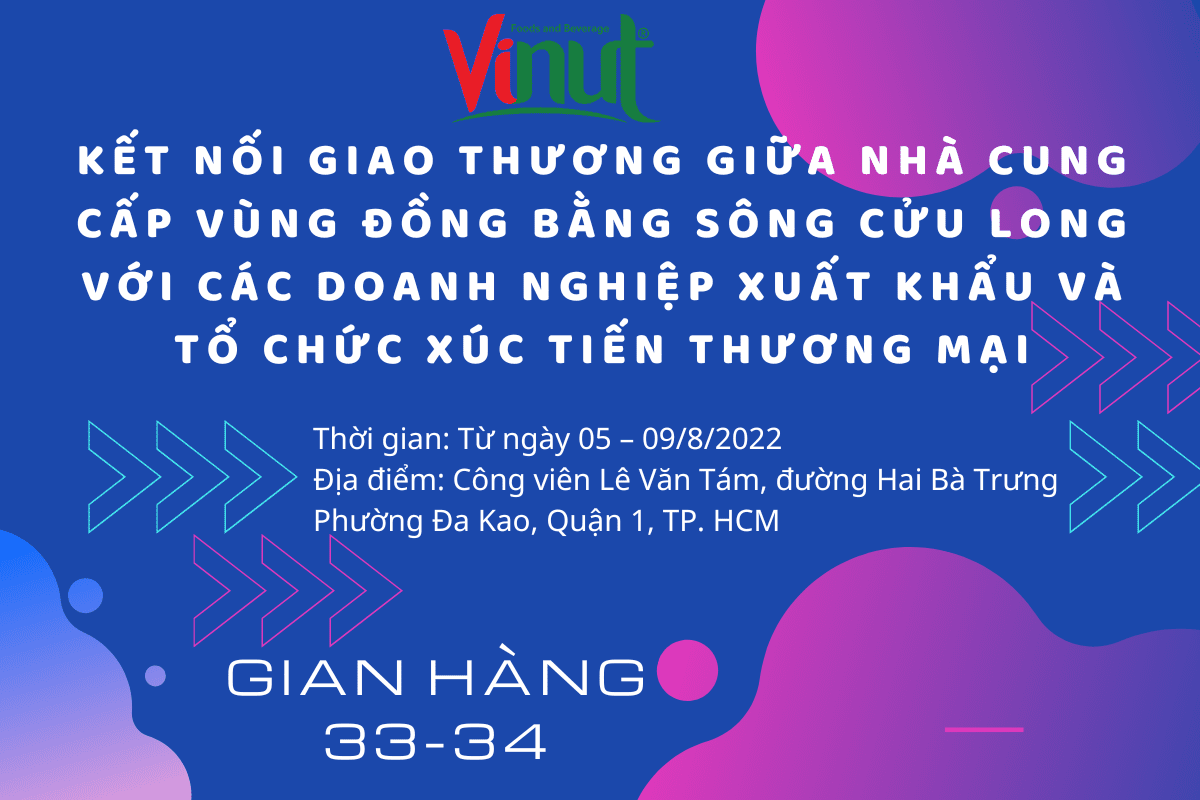 In order to promote and support for businesses in production and trade activities, facilitate the connection of supply and demand between local businesses and distributors, as well as between exporters and international trading units, the program "Connecting trade between suppliers in the Mekong Delta with exporters and trade promotion organizations" will be held in Ho Chi Minh City.
– Time: From 05-09/08/2022.
– Location: Le Van Tam Park, Hai Ba Trung Street, Da Kao Ward, District 1, City. HCM.
This is an activity under the National Program on Trade Promotion in 2022, assigned by the Ministry of Industry and Trade to the Department of Trade Promotion in coordination with the Department of Industry and Trade, Trade and Investment Promotion Centers of the Southern region. The program is implemented as an activity contributing to increase the value of export turnover in the Mekong Delta region.
– Trade connection conference: from 8:00 a.m. to 5:00 p.m. on August 5, 2022
– Product display and introduction activities: from 8:00 a.m. to 8:00 p.m. on August 5-9, 2022
– The trade connection conference is expected to attract about 250 participants, including:
• Representatives of People's Committees of Southern provinces and cities (about 20 provinces and cities).
• Leaders of the Ministry of Industry and Trade, Departments of Industry and Trade, Trade Promotion Center, Center for Industry Promotion and Trade Promotion.
• Industry associations, embassies, foreign trade promotion organizations and businesses.
– The area to display and introduce typical products and export potential of the locality is expected to attract the number of visitors and transactions reaching about 15,000 turns in 5 days.
Participants: Enterprises with specialty products and product strengths that have achieved OCOP at provincial level.
Nam Viet Foods and Beverage Joint Stock Company with the Vinut brand among the top enterprises in the F&B field, will attend the program with the company's strong products such as: J79 energy drink, coconut water with pulp, soursop juice, soursop juice with pulp and new bird's nest mixed with 4 tastes and many other diverse products.
The event is expected to provide an opportunity for consumers, visitors and partners to directly taste quality fruit juices, energy drinks and coconut water from Vinut – The Viet Strong Brand 2021 and Vietnam's No. 1 Brand 2022.